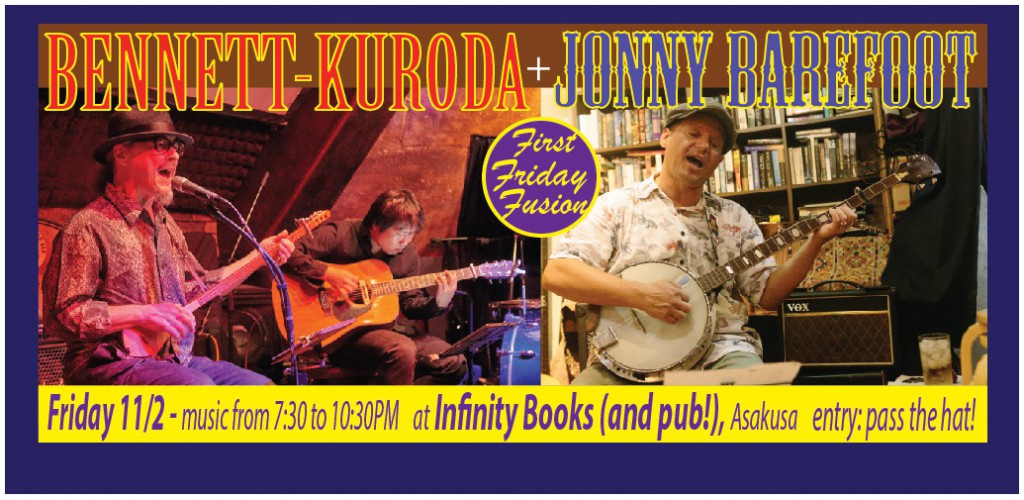 FRI 11/2 : BENNETT-KURODA (as part of 

Jonny Barefoot's "Fusion Friday" series at Infinity Books)


at Infinity Books, Asakusa, Tokyo
21:00 ~ 21:30 – entry: 1 drink and PASS THE HAT for music
The Bennett-Kuroda duo has been my focus, band-wise, for a couple of months now: we've been doing a lot of shows (4 just last month) and we're keeping it rolling with two in a row for the first weekend in November!This first one will find us at the cozy Asakusa venue Infinity Books, the site of singer/guitarist/banjo picker Jonny Barefoot's monthly music series. He calls it First Friday Fusion, but… don't be confused, there won't be any *Fusion* on offer. No Pandera covers or anything like that…

Bennett-Kuroda will play a set or two, depending on the mood, Jonny will play some tunes, and we'll likely do something all together. Keep in mind, too, that although it's a bookstore, Infinity Books is also a bar serving up nice fresh pints of Bass Ale and, I believe, Yebisu. Come to Asakusa!
First Friday Fusion Facebook event series page HERE
Below: screenshot of map to Infinity Books. Need more detail? Go to the Google map