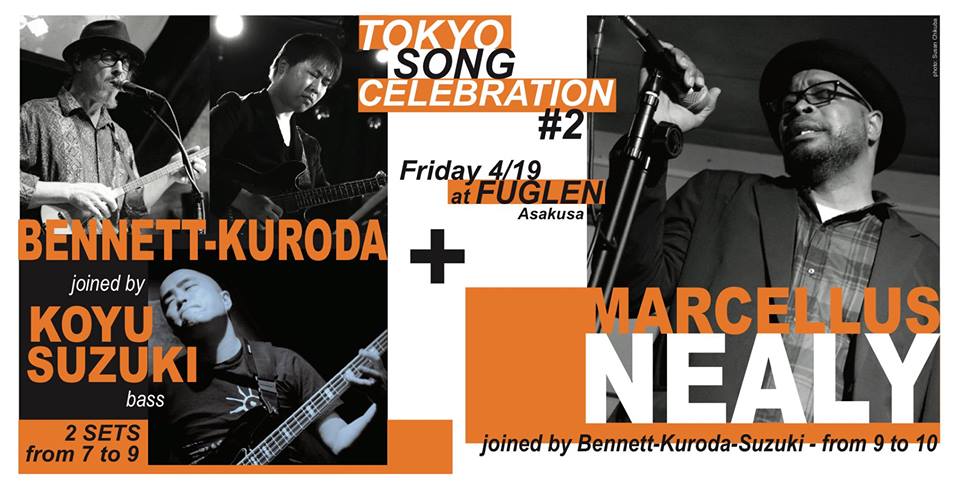 Tokyo Song Celebration #2
Friday April 19 at Fuglen, Asakusa
FREE entry, music from 7 to 10PM
Tokyo Song Celebration is here to do just that: to celebrate the art and spirit of song. Hosted by regular performers Bennett-Kuroda, the monthly event will bring their ever-expanding repertoire of original songs by Samm Bennett (as well as selected cover tunes) to Fuglen, the new cafe and bar in Asakusa, Tokyo.
In addition to Bennett-Kuroda's musical offerings, each installment of Tokyo Song Celebration features a special guest performer, chosen from Tokyo's rich pool of musical talent, or visiting artists passing through.
There is NO cover charge, entry is FREE to the public.
The venue is a stylish and comfortable spot, with a focus on fine coffee (some delicious baked goods may also be available) but also featuring a full bar, including craft beer, wine and liquors. Notable also is that there are 3 separate rooms within the venue: the main room (where the music will be happening) as well as another totally separate room on the same floor with tables, couches and chairs, and yet another third room, just up a spiral staircase, with additional lounge-ability. It's possible, then, to move into another area should you want to take a break from the musical performances and chat with friends. A nice flexibility.
THE SCHEDULE for Friday 4/19:
1st set: 19:00 ~ 19:45 – Bennett-Kuroda PLUS Koyu Suzuki
2nd set: 20:00 ~ 20:45 – Bennett-Kuroda PLUS Koyu Suzuki
3rd set: 21:00 ~ 22:00 – Marcellus Nealy with Bennett-Kuroda-Suzuki
Since 1993 Marcellus Nealy has been delighting and astounding audiences with his verbal wizardry. He sings, chants, intones, raps, whispers and shouts, all in a stream-of-conciousness outpouring of improvisational power that simply must be experienced! On this evening he will team up with Tokyo Song Celebration hosts Bennett-Kuroda for some spontaneous musical wordplay and performance unlike anything else you'll hear in this town.
PLUS special guest performer Koyu Suzuki! Koyu is a highly accomplished and very funky bass player, a veteran member (along with Samm Bennett on drums) of Marcellus Nealy's groove unit, The Amazing Flying Machine. Koyu will be adding the low end to Bennett-Kuroda's 2 sets for the evening, AND joining Bennett-Kuroda and Marcellus Nealy for the last set in a quartet jam. Sparks will fly!
Please visit the Bennett-Kuroda website: