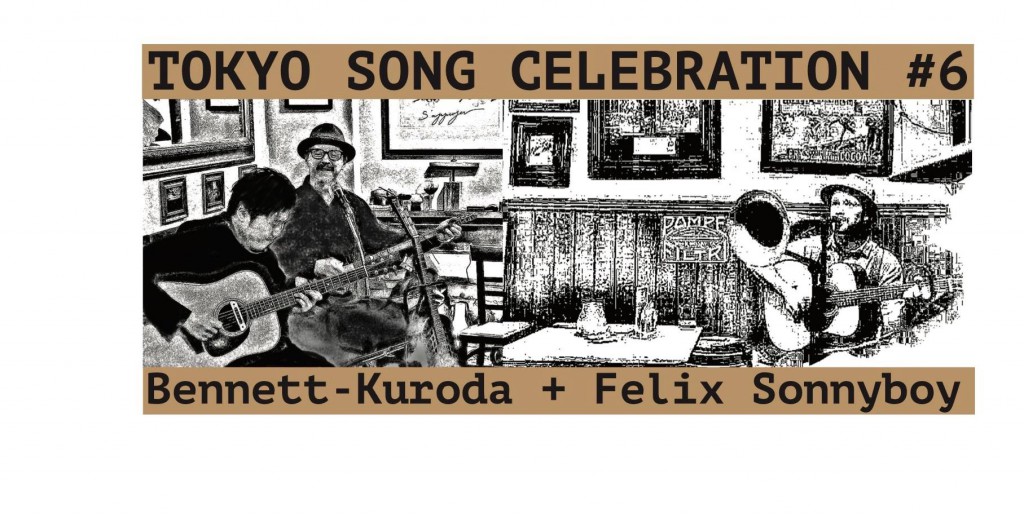 Tokyo Song Celebration #6
Saturday August 24 – 20:00 ~ 23:30
FREE entry
Tokyo Song Celebration is here to do just that: to celebrate the art and spirit of song. Hosted by regular performers Bennett-Kuroda, the monthly event brings their ever-expanding repertoire of original songs by Samm Bennett (as well as selected cover tunes) to Fuglen, the new cafe and bar in Asakusa, Tokyo.
In addition to Bennett-Kuroda's musical offerings, each installment of Tokyo Song Celebration features a special guest performer, chosen from Tokyo's rich pool of musical talent, or visiting artists passing through.
There is NO cover charge, entry is FREE to the public.
The venue is a stylish and comfortable spot, with a focus on fine coffee (some delicious baked goods may also be available) but also featuring a full bar, including craft beer, wine and liquors. Notable also is that there are 3 separate rooms within the venue: the main room (where the music will be happening) as well as another totally separate room on the same floor with tables, couches and chairs, and yet another third room, just up a spiral staircase, with additional lounge-ability. It's possible, then, to move into another area should you want to take a break from the musical performances and chat with friends. A nice flexibility.
THE SCHEDULE for Saturday 8/24:
1st set: 20:00 ~ 20:45 – Bennett-Kuroda
2nd set: 21:00 ~ 21:45 – Felix Sonnyboy
3rd set: 22:00 ~ 23:00 – Bennett-Kuroda
(and… quite often Samm will play some solo stuff, longer into the night, if folks are around and want more… seems to happen every time lately)
Scheduled guest performer:
SAT 8/24 : Felix Sonnyboy
Felix Sonnyboy has been knocking around Tokyo for, what, maybe a coupla years now? Anyway, he's been playing around town quite a bit as a solo act and with his band The Flower Pot Men and has been making a solid name for himself as a genial, spirited and engaging performer. His material mostly falls within the realm of blues, ragtime and American folk styles. He's a fine finger-picking guitarist and has a way with a song, for sure. Come hear Felix!
And check him out in this video, slamming good stuff!
https://www.youtube.com/watch?=2&v=63lWiUpzBuU
******************************************************
THE VENUE:
Fuglen is located in the heart of Tokyo's Asakusa district, and is situated between Asakusa station (Tsukuba Express line) and the OTHER Asakusa station (Tobu Skytree line – Ginza line – Toei Asakusa line). Also nearby is Tawaramachi station (Ginza line).
Google map to Fuglen:
https://www.google.com/maps/place/FUGLEN+ASAKUSA/@35.7129063,139.7928786,17z/data=!4m5!3m4!1s0x60188f94c3ce55cd:0xba4fa108446d25ef!8m2!3d35.7144656!4d139.7939944